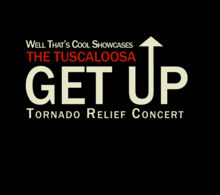 A few days after the April 27th tornado, we called our friend Elliot McPherson of the Dexateens with the idea of trying to organize a benefit  show to help in the recovery. It was decided that any sort of concert should be put on hold and the help the city needed most at that time was definitely more hands on. So with the one year anniversary approaching, we would like to announce the "Tuscaloosa Get UP"
The Tuscaloosa Get Up will take place at the Bama Theatre in downtown Tuscaloosa on Friday March 23rd at 8pm. The event is a partnership between us, the Tuscaloosa Arts Council and Tuscaloosa's own Dexateens. It will showcase the music of the Alabama Shakes, The Dexateens and Lee III and the Glory Fires.  The event is all ages and will be $15 for general admission with a limited amount of VIP tickets for $50. The VIP tickets will entitle attendees to early entry to a preparty at the Bama featuring light food, free local beer and limited edition poster and a short acoustic set from the some of the bands.
This event is a fundraiser for Tuscaloosa Habitat for Humanity. All proceeds from the event will go towards our goal of rebuilding a whole house for a family that lost theirs during the storm. We want to harness the power of music to help heal Tuscaloosa.
General admission and VIP tickets are available here
If you can't make it but still want to help, you can make a tax deductible donation here.
Here is a little wellthatscool.com taste of what you have in store.
---