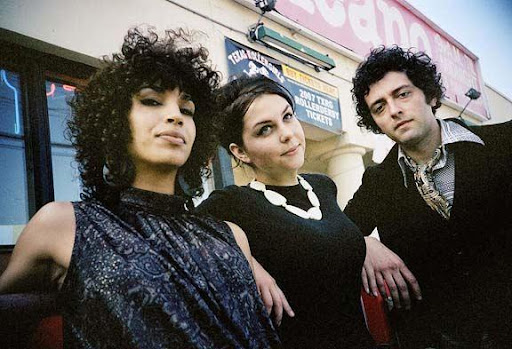 I'd be fooling myself if I said that I didn't have a weakness for front women in rock bands. My music collection is busting at the seams with Heart records,
Karen O's unmistakable growls, and everything that Jenny Lewis touches. So it's no big surprise that it was love at first listen when I heard The Ettes' "Shake the Dust" (Sympathy for the Record Industry, 2006). The Ettes are a Nashville based band with a pretty straightforward garage rock sound. However, they've got Lindsay "Coco" Hames in their corner and her salty voice changes their game big time. Backed by the raucous drumming of Maria "Poni" Silver and the confident bass playing of Jeremy "Jem" Cohen, Coco shells out the lyrics with gusto and it pays off. The album "Shake the Dust" is a bright listen all the way through. The starting track "Reputation" lets the listener know that this album is a party, not
afternoon tea. It's delightfully brash and, like the rest of the songs that follow, barely flirts with the 3-minute mark. The songs "No More Surprises" and "It Ain't You" flaunt Coco's commanding vocals with aggressive lyrics. The twangy "Soft Focus" serves as a welcome reminder that the record was produced under Liam Watson, the man behind The White Stripes and The Kills.Their newest release "Do You Want Power" (2009,
Ingrooves) is tighter, cleaner, and more booming than "Shake the Dust" as a whole. They make the transition to a more refined sound smoothly, including numbers like "Love Lies Bleeding" to show that even without the rock star static they still have the power to write a great song. The tracks "No Home" and "Red in Tooth and Claw" preserve their edginess and keep Coco spitting grit with the best of 'em. If you like The Slits, Gossip, or The Yeah Yeah Yeahs, you need to check out The Ettes. Take a look at the videos for "No Home" and "Dead and Gone" to see just what I mean about this scrappy ensemble, and then remember to visit OZ Music where these albums, and much more, are available for your listening pleasure!
Ally Nevarez-
---